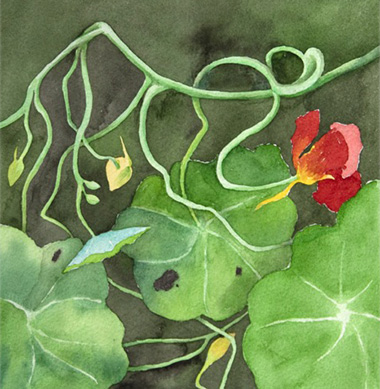 My work has always been driven by a love of the natural world, its forms, colors and light. For the past few years I have worked in watercolor, focusing on botanical studies and other details of nature during the annual cycle of earth around sun.
The order and grace of natural forms, both living and dying, are captivating. These close portraits of leaves, shells, trees and flowers describe moments in time: spring and summer, when the energy and speed of growth is almost electrical; autumn, when light is fading and leaves become brilliant; and winter, akin to sleep, when the world returns to its essential architecture.
Former work, primarily in oil, has included other subjects: the Maine seacoast, the hills of California, bodyscapes, portraits, mandalas and charcoal studies of bones.